Mike Alpert has been the President/CEO of The Claremont Club since 1997.
Located in Claremont, California, The Claremont Club is a multi-use athletic, aquatic, tennis & social facility encompassing 19 acres, with a staff of 271 and servicing over 10,400 members and working on an $13,000,000 operating budget. During his time in Claremont he has created a dedicated team with a sense of ownership and accountability; developed a club culture of a passionate and value-based entity and created a focus on making a difference in people's lives.
Mike has served on the Northwest Athletic Club Association Board of Directors and is a Past President & Board Member of California Clubs of Distinction. He is also an Advisory Board Member of the Medical Wellness Association. Mike is a recipient of the Richard S. Kirkendall Award: one of only two non-educators to receive this award from the Claremont Unified School District, The REX Ben Franklin Award and The Medical Wellness Association Distinguished Community Service Award.
Because his passion is for the chronically injured and the chronically ill, Mike has been presenting "Exercise is Medicine" to universities and organizations internationally including Israel, Italy, Madrid and Ireland. He believes that now, more than ever, the health care industry and the fitness industry must join efforts in combating and preventing the progression of disease and the effects of injury.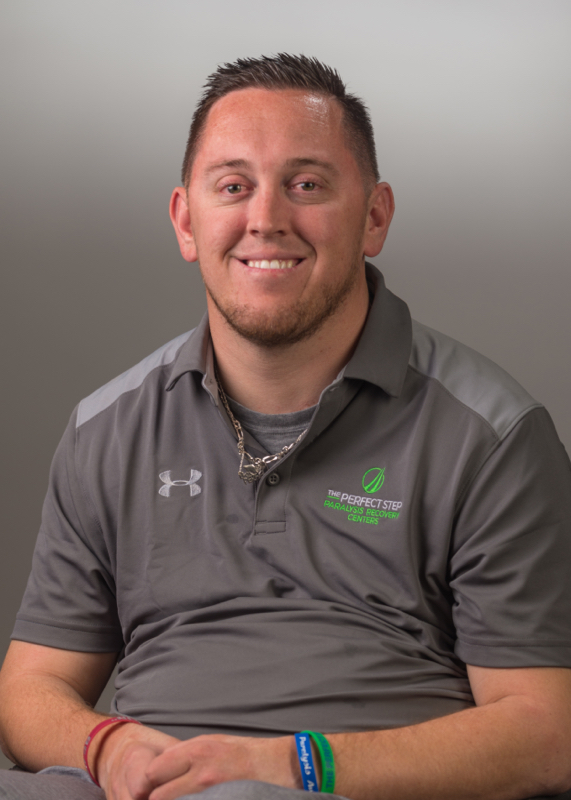 "The Perfect Step is one that is taken by the individual who is suffering. It is deemed the perfect step because it is one that is taken in the right direction down a path that might seem long and grueling, but the only thing that matters is that, that individual is moving forward and not stopping."
Hal Hargrave is the owner and founder of The Perfect Step and presently serves a role as the Facilities Manager as well as the Educational and Marketing Director. Hal became a part of the team back in 2007, shortly after he sustained a spinal cord injury in an auto accident. Hal was approached by Mike Alpert and the Claremont Club, in an effort to try and provide treatment to Hal and be a part of his ongoing therapy regiment and recovery.
What started in a small converted racquetball court for paralysis recovery, has now transpired into something far greater than what both Hal and Mike probably ever anticipated. With now a 7000 square-foot facility, which treats many different neurological ailments and illnesses, The Perfect Step, the Claremont community, The Claremont Club, the Hargrave family and Mike Alpert are making a tremendous impact in the lives of many. Hal is excited for what the future may hold with the incredible tripod partnership between The Be Perfect Foundation, the Claremont Club, and now The Perfect Step.
Hal hopes that with his collaboration with The Claremont Club and Mike Alpert, that they will able to take The Perfect Step nationwide and provide services of paralysis recovery to every major region of the United States. What started as a tragic accident has turned into one of the greatest blessings of all. It's The Perfect Step in the right direction.
"My goal is to get anyone desirous of exercising moving more and utilizing all the services accessible to them at the club and in the community."
Denise Johnson has been a part of the Claremont Club family for more than 20 years. She has an education that is backed in a Masters of Exercise Science with certifications pertaining to the fitness field in: ACSM Health/Fitness Instructor, NSCA-CPT, TRX Certified, Power Plate Certified, Kettlebell Trained, Bulgarian Bag Trained, Heart Rate Zone Certified, AFAA-CPT, Rope Trained, Queenax Trained, CPR/AED Certified. Denise has been in the fitness/wellness industry over 30 years and has worked as a Corporate Fitness Director, College Professor and currently in Commercial Fitness. Denise wants to provide the TPS clientele with the most knowledgeable Specialists and be on the cutting edge of research and fitness. No matter the goal, Denise wants everyone to dream big and she wants to deliver. Denise aspires to, "Make ALL clubs accessible to the disabled," and to help clubs in the industry provide services that benefit paralysis and special populations. While Denise is very passionate about what she does, she also has other passions outside the building as well; her husband, her two children, her two Basset Hound dogs, working out and hiking.
"The greatest thing we can do in the world is to help others, because all we have is each other!"
Skye joined the TPS team in 2013 after he completed his Bachelor of Science in Kinesiology with an emphasis on Exercise Science from St. Mary's University in Texas. Skye maintains an important position within the TPS facility as a Level III TPS Certified Specialist as well as an Educator to future Paralysis Recovery Specialist. As one who educates, Skye understands it's important to continue his own education within the field, as he has additional certifications in Interactive Metronome for pediatrics and adults, Advanced FES (Functional Electrical Stimulation), as well as a certification in Total Body Board.
With now more than five years of experience in the field, Skye's knowledge, skill set, and ongoing education continues to expand before his eyes. Skye has taken his educational background as well as his athletic mentality post college baseball and put it into a well-rounded philosophy towards training. He believes the human body is meant to be in motion and that exercise is the best form of medicine. He tries to live his life as a living testament that individuals can use exercise as medicine as a way to improve physical, mental, and emotional health. Skye's style and approach is well rooted in his belief in TPS' methodologies and his personal program design for his clients. Skye hopes that someday insurance companies will start to see eye to eye with what TPS is doing to serve the paralysis population and he intends to make tremendous strides in the field to bring light to this pivotal talking point.
Beyond being involved with TPS, Skye wants to continue to make a difference within the field by continuing his education in the field of paralysis, by continuing his education in the latest and greatest studies and technologies that are being introduced to the field and then passing this information on to his successors. If you do not find Skye giving top quality treatment to his clients inside TPS, then you might find him golfing, hiking, exercising, or spending time with his dog and his friends.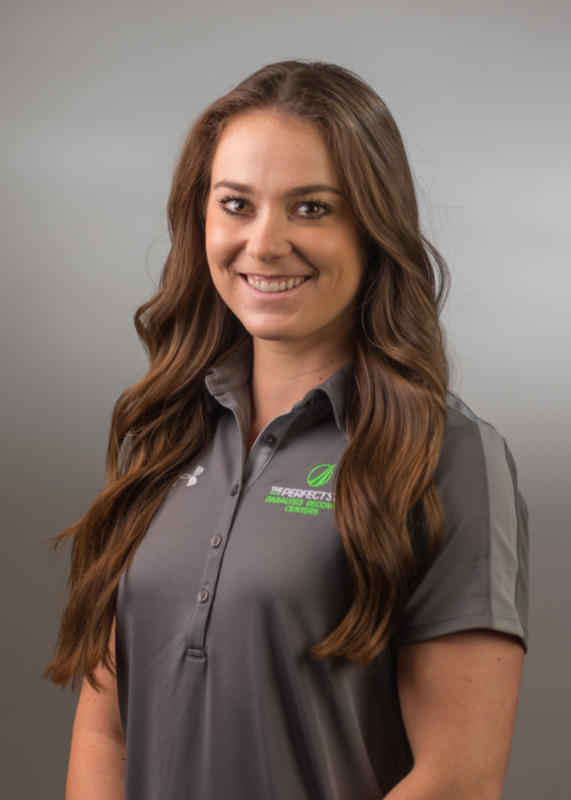 "I want to show as many individuals with paralysis that they still have a purpose, they still have something to strive for, and they can do more than they believe."
Ashton became a member of the TPS team in 2014, soon after obtaining her Bachelor's Degree in Integrative Physiology from the University of Colorado, Boulder. As a Level III TPS Certified Paralysis Recovery Specialist and Educator, Ashton is one of the leaders of the TPS staff at many different levels. Now qualified educate, she is taking her outside the box approach and style to the drawing board where she can now educate others who are up-and-coming in the field. Her knowledge and skill set is not only rooted in her education, but also in her ongoing certifications that she has received in CPR, Total Body Board, Advanced FES (Functional Electrical Stimulation) and Interactive Metronome. She was committed to the field of paralysis recovery long before her tenure at TPS, as her father is a recovering C-5 quadriplegic who has overcome his injury and 30 years later is walking and living a near able-bodied life.
Ashton will tell you that her exposure to the paralysis recovery field since starting at TPS, has really opened her eyes to her dad's recovery. Through this exposure, she has developed a unique identity and style that pertains towards pushing her clients to their fullest potential. Her style is very serious, yet very fun, but her workouts are challenging, but manageable. She takes deep pride in learning from her peers, because it not just helps them, it helps to continue testing her knowledge.
Ashton's aspirations within the field reside in wanting to implement different TPS facilities throughout the country, giving her the opportunity to spread TPS's methodologies to other specialists wanting to learn about the paralysis recovery field. If she's not already an advocate for the facility, then the fact that she is on her pursuit to show insurance companies that what TPS is doing is worth them jumping on board to pay for therapy, should give you a clear indication of where her heart is at. Ashton is always one to practice what she preaches, so you might find her lifting weights, cheering for her beloved Colorado Buffaloes, Broncos, or Angels teams. She does this while spending time with family and staying strong in her Jewish faith.
"I would love to continue to instruct other trainers' throughout the world so they could help people with paralysis that can't relocate to the Claremont area."
Jason joined The Perfect Step paralysis recovery team at the Claremont Club in 2019. Jason has an educational background from Cal State University Long Beach where he received his bachelor's degree in Kinesiology. In addition to his educational background, Jason brings a wealth of knowledge and a great skill set to The Perfect Step team.
Jason has more than 12 years of experience in the field of paralysis recovery, as a previous Specialist at Project Walk in Carlsbad, California and has more than 10,000 hours of hands-on experience to go with it. Jason is one of the few individuals in the world who had the great opportunity to receive his training under Ted Dardzinski, who is regarded as the pioneer in the nervous system recruitment and in reorganizing/reactivating the nervous system. "I started working in the neurological disorder field at the original Project Walk in 2007. I had the privilege to learn from the founder of Project Walk, Ted Dardzinski. What an eye-opening experience it has been. We started out primarily working with spinal cord injuries but branched out into helping others with different neurological disorders such as victims of stroke and traumatic brain injury to name a couple. In addition to training clients, I have also taught and mentored other Specialist how to train their clients. Some trainers have come from across the world to learn," said Jason.
What came of that experience was a philosophy of his own that Jason developed. Jason believes that the Specialist must be an extension of the client's nervous system in order to achieve the best results possible. "These conditions are neurological in nature and must be treated as such. Communication from the client's brain to the body and back is the most important aspect in recovery." Jason has aspirations to help as many clients achieve their goals as possible and to help Specialist around him be the best that they can be. When Jason is not at TPS you can find him in the weight room, lifting weights, or watching anything baseball. "I feel lucky to be here, as this place is a special place."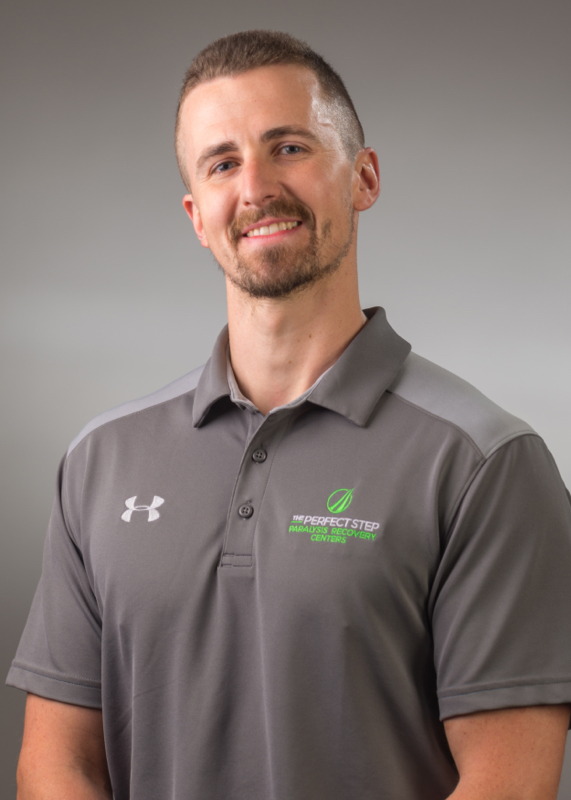 "You have to put in the effort, but ultimately you will get more out than what you put in."
Shawn joined the paralysis recovery team at the Claremont Club, prior to TPS even being in existence, in 2012. Shawn became fond of the approach towards recovery for those living with paralysis upon becoming a personal trainer at the club many years ago. Shawn's approach towards training and recovery is rooted in the idea that an individual's results are a direct reflection of one's drive, focus, and action pushing to fitness aspirations. This approach is back in the knowledge and skill set he obtained from Cal Poly Pomona and Western University. He received a Bachelor of Science in Exercise Science with an emphasis on Human Performance, as well as a Masters of Science in Health Sciences with an emphasis in Health Professions Education. As a Level II Certified TPS Recovery Specialist, Shawn has an extensive background in the fitness world with other certifications in NSCA Certified Personal Trainer, Functional Movement Screening Certified, USA Weightlifting Level 1 Coach, CPR-First, Total Body Board, and Interactive Metronome.
Shawn has much job experience within the field as he has trained clients ranging in ages from 9 to 71; from athletes, to individuals with paralysis. Shawn is a true believer in the fact that "Exercise is Medicine" and he believes that the biggest difference that he can make in the fitness world is through providing education to others. He intends to do this by pursuing his aspirations in undergraduate teaching, in an attempt to try and create positive changes in people's health and longevity through his teaching.
When Shawn is not at the TPS facility you can most likely find him at home playing with his daughter, watching Netflix, playing video games, and of course reading to further educate himself.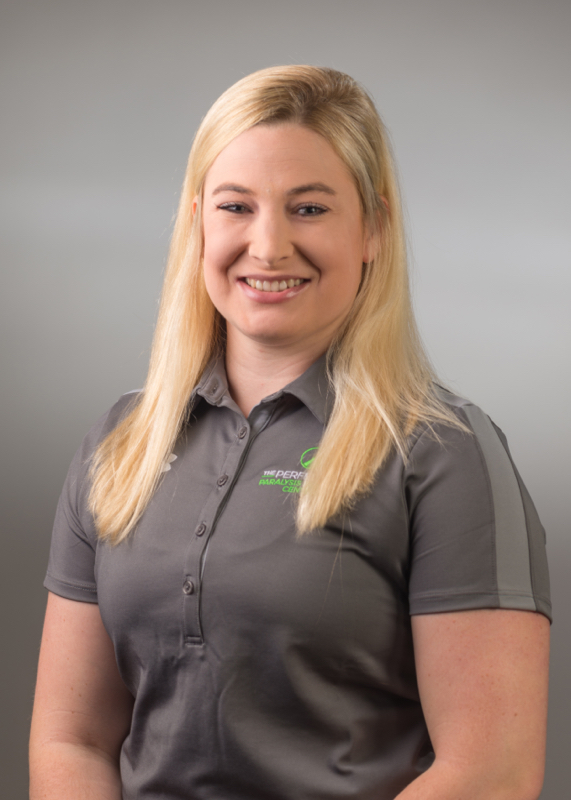 "My greatest passion is helping people, and as long as I can do that here or in any other career, I will be happy."
Kristen Lockett has been a part of the TPS team since 2013, after she graduated from Sonoma State University with a Bachelor of Science in Kinesiology and a concentration in Lifetime Fitness. Kristen is presently a Level II TPS Specialist and has other certifications in Long Term Care Nursing Assistant and Acute Care Nursing Assistant, American Heart Association Basic Life Support for Healthcare Providers, American Red Cross Lifeguard, First Aid and CPR/AED, Total Body Board, and Interactive Metronome. Kristen has worked in the paralysis recovery field for over four years and has worked her way up in the ranks at TPS, as she previously started as a Recovery Aide and eight months later was promoted to a Recovery Specialist. Kristen's goal for her clients is to make them feel better physically and mentally than when they first came in. She likes to help her clients reach and maintain their goals inside and outside the facility.
Aside from wanting to work as a Paralysis Recovery Specialist as long as physically possible, Kristen wants to help her clients physically, emotionally, and mentally achieve their goals. Aside from her passions for TPS, Kristen loves to spend time with her husband and her 8-year-old stepson, who are her two best friends.
"I love my job and the people I work with and I hope that shines through every time I step into the building."
Nicole became a member of the TPS team in 2016 shortly after getting her Bachelor of Science in Kinesiology from Cal State Monterey Bay. Nicole is presently a Level II Certified Paralysis Recovery Specialist for TPS and has other certifications in ACSM CPT, SCI, Total Body Board, and Interactive Metronome. With now over 2 years of experience of working with those with paralysis, she has gained exposure to clients who suffer from SCI, MS, Cerebral Palsy, TBI, Stroke, and Parkinson's. Nicole's approach towards her training is that she believes a sense of positivity and a hard-working attitude is key in recovery.
Positivity not only inspires but motivates individuals to push themselves to a whole new level. Nicole also believes that having a supportive community is pivotal in both a physical and emotional recovery. With an open mind and a student of the game mentality, Nicole aspires to gain as much knowledge as possible within the field, as she believes knowledge is power. She intends to continue to work hard to set an example to all people living with paralysis, so that they can do more than they ever imagined.
She feels that the best way that she can do this is by providing a place and platform where her clients can come and feel accomplished by chasing their dreams and attaining their short and long-term goals. Aside from her commitment to TPS, Nicole loves going to the river, bowling, going to concerts, watching sports, and playing softball.
"I want to bring more support services to the paralysis recovery field in the form of mental health therapy."
Jenna Hardy has been a member of the TPS team since 2013. She has an education backed in a Bachelors of Science in Exercise Physiology and is currently working on finishing her Masters in Clinical Psychology; Marriage and Family Therapy from Azusa Pacific University. As a level I TPS Specialist with five years of experience in the paralysis recovery field, Jenna's well-rounded nature is also rooted in certifications in Certified Yoga Instructor and CPR/AED. Jenna's work in the fitness field started long before her tenure at TPS. She started working with the paralysis community during college where she volunteered for an exercise therapy program, which helped disabled people in the community get free exercise therapy while gaining experience towards her bachelor's degree. Her philosophy towards training is rooted in how todays society wants fast results in everything that they do.
She believes a strong foundation is key to a long-lasting success. She wants to work alongside her clients, brick by brick, to build a stronger foundation, and a better version of themselves. Jenna's aspirations lead well beyond what happens within a physical work out, she intends to affect the paralysis community by providing psychotherapy practices and mental health treatments to her clients that are in need.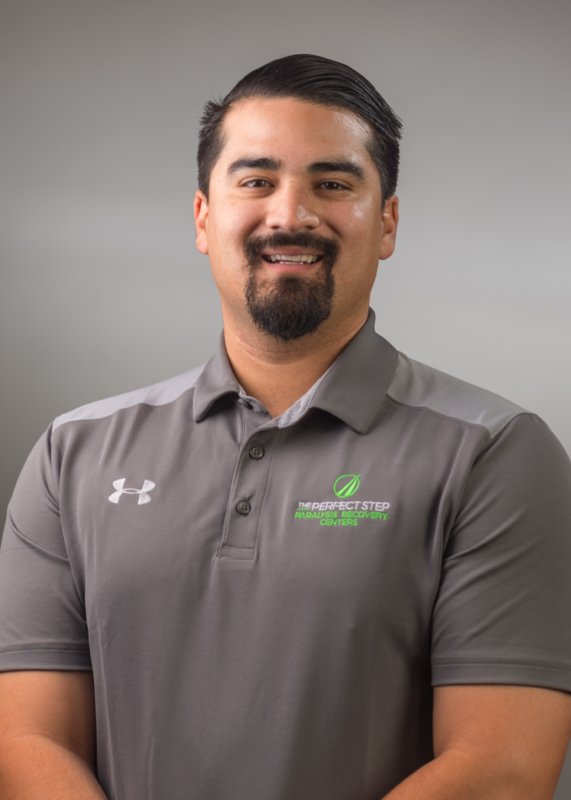 "I want to be apart of providing more evidence backing the importance of exercise in all populations and the positive benefits it has."
Joshua Herrera started treating clients at TPS as a Paralysis Recovery Specialist in January 2018. Josh graduated from California State University San Bernardino with a Bachelors of Science in the field of Kinesiology. As a Level I Paralysis Recovery Specialist, Josh has a unique educational background that is also backed with education in CPR, AED, Total Body Board and Interactive Metronome. Josh's mentality and philosophy towards training has evolved over his time of working in the field and he has a strong belief in The Perfect Step program. He believes that a consistent workout regiment accompanied with TPS's methodology can have positive effects on the client. By keeping clients active he believes that clients will increase daily living activities and reduce secondary complications.
Josh aspires to help his clients reach their short and long-term goals and would like to pioneer different studies and provide more evidence to the benefits of exercise for all types of populations. Josh is helping the TPS facility make a big splash now and well into the future.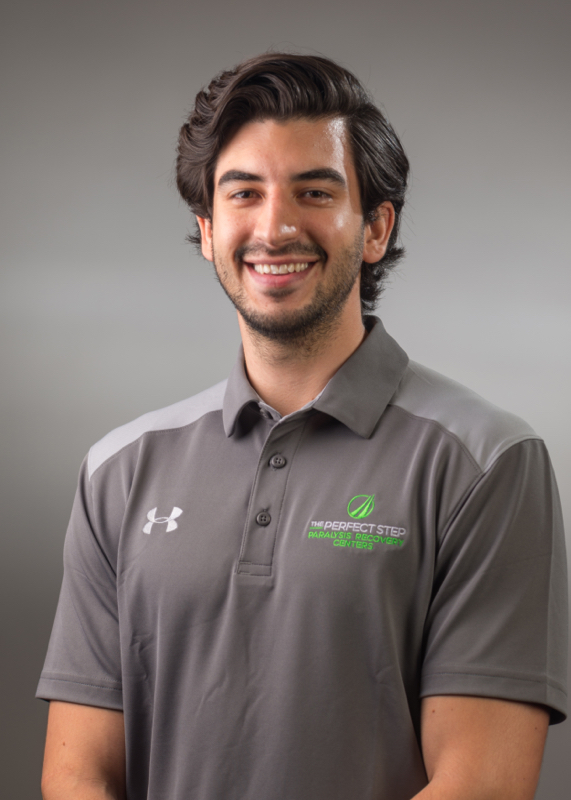 "I want to help others succeed by meeting their short and long-term goals. Along with their goals, I want to lead clients to a healthy lifestyle throughout their recovery."
Nathan Lozano became a part of the TPS team in 2017 as a Paralysis Recovery Assistant. As of June 2018, Nathan became The Perfect Step's most recent Certified Paralysis Recovery Specialist after he passed his Level I exam. Nathan graduated from Azusa Pacific University with a Bachelor of Science in applied exercise and is currently fulfilling his Masters of Science in Kinesiology at A.T. Still University. With over a year of experience in the field of paralysis recovery, Nathan is also certified in Interactive Metronome and NASM Corrective Exercise.
Prior to working at The Perfect Step, Nathan worked as a physical therapy aide at several rehabilitation clinics and has developed expertise in designing rehabilitation programs for patients. As an up-and-coming specialist inside the facility, Nathan aspires to gain as much knowledge as he can in the field of paralysis recovery, so he can help others succeed. Nathan truly is a student of the game and has humble beginnings and foundations to fall back upon within the TPS.
If you were to find Nathan outside the facility odds are he would be traveling, hiking, reading, spending time with friends and family, or watching romantic comedies.
Kristen Sanchez
Certified Paralysis Recovery Assistant Since 2019
"I would like to create new modalities and bring in new ways of thinking to the team with the goal of always bettering our clients and helping them live stronger, healthier and happier."
Kristen Sanchez joined the TPS team as a Certified Paralysis Recovery Assistant in 2019. Kristen received her education from the University of La Verne in 2019, with a Bachelor's of Science in Kinesiology and an emphasis in Health and Human Performance, and a minor in Psychology. Kristen will pursue her higher education starting in the fall of 2009, at Cal Baptist University, getting her Master's degree in Exercise Science. Kristen does have previous experience in the field of physical therapy and paralysis recovery. She previously completed an internship at Team Physical Therapy in Rancho Cucamonga of more than 70 hours of hands-on experience, additionally she obtained more than 40 hours of internship experience at TPS, starting in the spring of 2018. Kristen's previous job experience includes coaching volleyball and working for the physical fitness/lifestyle brand giant, lululemon. With her previous knowledge, expertise, and experience, Kristen has already developed a philosophy towards training. "I believe that energy is both contagious and influential. I also believe that every day of training brings new challenges, personal growth, and a sense of determination that can help you move closer to the end goals and hit every milestone in between," says Kristen. Kristen's aspirations within the field are to learn more and to constantly improve herself and those around her. Her hopes are to work her way up to eventually become a Certified Paralysis Recovery Specialist at TPS. When Kristen is not in the building, she enjoys traveling, going to the beach, working out and taking classes (yoga, spin, pilates). To put it simply, she likes to do anything that keeps her active.
Jeremiah Maldonado
Certified Paralysis Recovery Assistant Since 2019
"I would like to make a difference by coming into this field with a positive attitude, humility, compassion and doing whatever it takes to have people walking out with a smile and with a positive attitude. Through hard work and dedication, I would like to make a long term difference at The Perfect Step and the community."
Jeremiah Maldonado joined the TPS team as a Certified Paralysis Recovery Assistant in 2019. Jeremiah is currently pursuing his degree in Kinesiology. Additionally, Jeremiah received his pilot's license from Mount San Antonio College's Aviation Program. In addition to his schooling, Jeremiah has gained experience in the field of paralysis recovery through working at his high school alma mater, Claremont High School, as a paraeducator in the Special Education department. In the Special Education department, Jeremiah worked one on one with a variety of students with different disabilities ranging from Autism to Cerebral Palsy. On the job, Jeremiah would help out with Adaptive Physical Education and help the students use a hand-bike, play corn hole or any kind of activity that would help them be active. He also assisted with getting them out of their wheelchairs to facilitate their daily physical fitness class activities. This prior experience and education in the field has given Jeremiah a perspective that has allowed him to develop a philosophy towards how he would train clients of his own at TPS. "My biggest philosophy towards training is that exercise is the best form of medicine. Knowing that consistency and repetitions are key. Even when the body is sore and doesn't feel like training those workouts will feel the best when you are done," said Jeremiah. Jeremiah will look to be involved in the field for the long-term and intends to increase both his knowledge and skill set every day. He would love to make an impact on clients lives as well as the coworkers that are around him. Jeremiah has the added benefit of being able to work in the town that he grew up in, Claremont. Jeremiah graduated from Claremont High School where he played both football and baseball. He loves being a part of the Claremont community and is excited to still be a part of it. When Jeremiah is not inside the building, he enjoys playing both baseball and football, going on vacation, spending time with his family, surfing, working out, and most importantly to himself, serving others.
Michael Boyd
Certified Paralysis Recovery Assistant Since 2019
"I will make a difference in the field by continually approaching each day like it's my first and keeping a selfless attitude when it comes to customer service."
Michael Boyd joined the TPS team as a Certified Paralysis Recovery Assistant in 2019. Michael received his education from Azusa Pacific University with an undergraduate degree in Exercise Science. Michael currently serves a part-time role at The Claremont Club as a Personal Trainer after he received his personal training certification from the National Council of Strength and Fitness. Thus, this type of hands-on education in the field of physical fitness has given Michael a knowledge about corrective exercise, human movement, and exercise physiology. Additionally, Michael volunteers at San Antonio Hospital as a Recovery Aide for their outpatient physical therapy program. Michael's philosophy towards training is, "When it comes to training, I believe it is imperative that one must fully understand how and why they are doing the movement in order to make sure they are achieving their desired results. As a trainer I like to educate my client on how and why we are doing an exercise while making sure I am gradually getting them closer to their fitness goals," said Michael. With all of Michael's endeavors going on, he is passionate about pursuing more education and continuing to develop both knowledge and a skill set in the fields of exercise and recovery. Michael's aspirations for the future are to continue to influence his clients in a manner where they can buy into the belief that "exercise is preventative medicine." With the experience that he continues to gain at TPS, he hopes that it allows for an integrative approach for facilitating healthcare that he can apply to his future career path, as he hopes to return to school to pursue his higher education of attaining a degree as a Physician's Assistant. As an ex-student athlete (football player) at Azusa Pacific University, Michael developed a love for sports at young age and is both a Raiders and Lakers fan. When he is outside the building Michael enjoys hanging out with family, friends, exercising, going to church, and spending quality time with his best friend, his wife.
Ashlyn Jackson
Certified Paralysis Recovery Assistant Since 2019
"I believe in the power and support of physical therapy for the mind, body, and spirit."
Ashlyn Jackson joined the TPS team as a Certified Paralysis Recovery Assistant in April of 2019. Ashlyn is obtaining her Bachelor's Degree in Kinesiology from the University of La Verne and will be graduating in December of 2019. Additionally, Ashlyn did several hours of internship at the TPS facility for her senior project at the University of La Verne. Ashlyn's original exposure to The Claremont Club and The Perfect Step was because of her previous job of working in the Childcare Center at The Claremont Club. She heard about many of the great programs that the club was offering to individuals suffering from a variety of chronic illnesses and ironically enough she eventually visited the facility for a field trip with one of her classes at school to solidify her interest in the TPS recovery model. Ashlyn believes that there is tremendous power and support that can come from therapy for the mind, body, and spirit of an individual. After her father was diagnosed with renal failure, she wanted to know more about his condition and how it would affect him. Thus, she started getting more interested in the medical field in high school as an athletic trainer and as an ROP student for the school's Medical Assistant Program. After her internship with The Perfect Step she immediately fell in love with serving those with paralysis and wanted to become more hands-on with the paralysis population. After graduating from the University of La Verne, Ashlyn would like to transfer to Western University or Loma Linda University to pursue a Doctorate in Physical Therapy. She would like to make a difference by creating a fun and happy atmosphere for everyone around her. Ultimately, she would love to work with clients to help them reach their goals and to see their improvements. In her spare time Ashlyn enjoys spending time with family, friends, and volunteering at Helping Hands on the weekends. She also loves going to the beach, finding new hiking trails, and exploring new places.
Sean Connor
Certified Paralysis Recovery Assistant Since 2015
"I've always enjoyed helping people improve their quality of life. I take pride when I know I've helped a client reach a new milestone or when they are newly able to do something they weren't able to do before they started a workout program."
Sean Connor joined the TPS team as a Certified Paralysis Recovery Assistant in 2017. Sean received his education from Cal Poly Pomona, as he received his Bachelors in Kinesiology with an emphasis on Exercise Science. Sean also has additional education in the field of therapy and recovery, as he received his credential as a Certified Strength and Conditioning Specialist from the National Strength and Conditioning Association. Sean's training mindset continues to manifest from his position of a Master Personal Trainer at The Claremont Club where he has been personal training for three years. Some of his same philosophies and approaches towards training and recovery reside in his personal training style, much like they do in his stylistic approach as an Assistant at TPS. Sean believes that a healthy body is a healthy mind. "Exercise does not just make you stronger physically, but it also improves your self-esteem, improves your independence and makes you feel better in general," said Sean. Sean takes tremendous pride in helping people improve their quality of life. He feels good about the fact that he can help his clients reach new milestones or achieve things that they were unable to do prior to working with him. When Sean is not helping others achieve their goals he is living and active lifestyle of his own. Sean enjoys the outdoors. He enjoys spending time at the mountains and the beach and everywhere in between. Of course, everything he does involves movement, so it should be of no surprise to anybody that he enjoys snowboarding, golfing, working out, and watching sports with friends.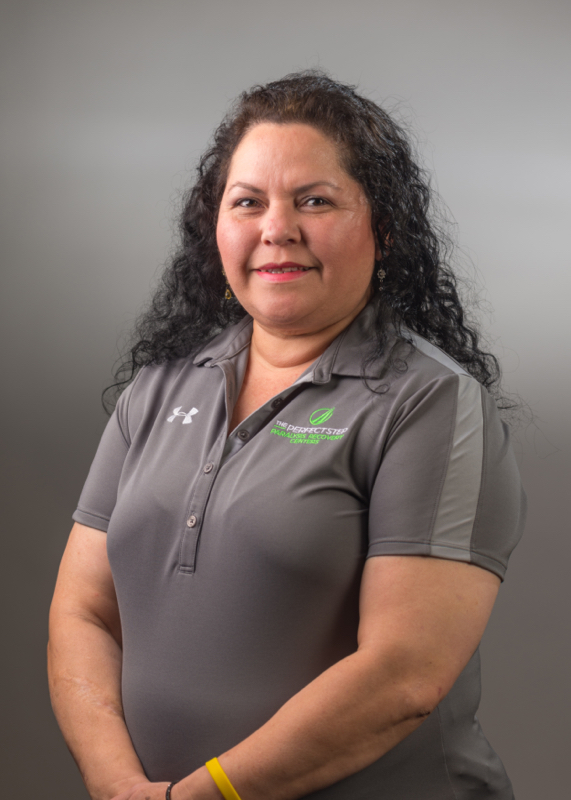 Juana has been part of The Claremont Club family since 2003. She started working as a Receptionist in the Ambiance Day Spa and Salon. Her passion for customer service and hard work gave her the opportunity to take a leadership role and work in different departments around the club. Juana has been recognized for her communication skills and having many responsibilities. Although she was happy with her former line of work, her true calling came when she was given the opportunity to be part of The Perfect Step team. Juana has had many personal situations that had help her understand how important it is to treat everyone with respect and kindness.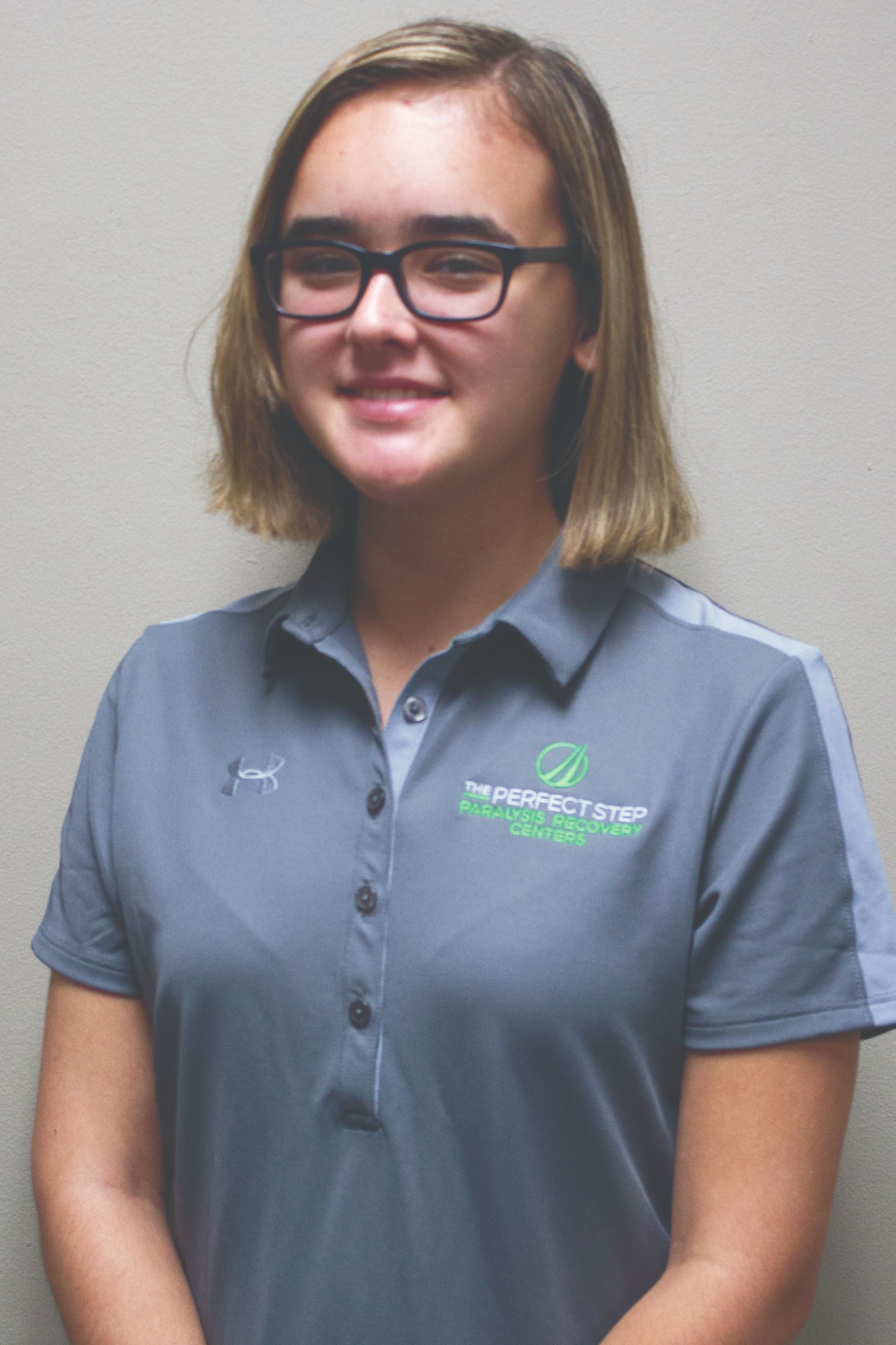 Administrative Assistant Since 2019
"My father suffered from a spinal cord injury when I was at a young age, so I know what it is like living in a household that most kids cannot relate to. However, I remember what it was like before the accident, and if I can help any child with that rough transition, I would be more than willing to reassure them that they are never alone."
Raven Hall joined the TPS team as an Administrative Assistant in 2019. Raven's educational background started at Arlington high school in Riverside, California and she is currently attending the University of La Verne to pursue her teaching credential. While Raven is utilizing her expertise to further better our administrative team, Raven so happens to have 12 years of experience in the field of paralysis recovery, as her father suffered a spinal cord injury of his own back in 2007. Her exposure to her father's injury, not only allowed her to gain important knowledge and newfound perspective, but also allowed her to grow up fast and in a very mature way. Thus, we believe Raven will bring tremendous growth to our team through her student and teacher mentality. She previously tutored elementary school students in various subjects. While Raven intends to focus her professional endeavors while she's here, solely on the administrative side of things, she also has a philosophy towards training. "Training improves the quality of a person's life. Whether it is improving the way one's body can function, or it is providing an encouraging and friendly environment, training is important. The Perfect Step, as well as the paralysis community, has introduced life-long relationships, especially of those who can empathize with you. Being able to talk about the hardships that come with this unique lifestyle with someone else who understands you, or can at least relate to you, is completely life changing and it may be what someone needs. Training does that for all who are involved and those in the community will celebrate every accomplishment and milestone, big or small." Furthermore, Raven plans to stay in this position at TPS for as long as she can, up until the point where she graduates from college, where then she would like to become an elementary school teacher. She loves helping people and believes that TPS is the perfect place to start her journey. When Raven is not at TPS she enjoys reading, spending time with her sisters, watching cartoons and doing her school work.
In her own words: "The Perfect Step has been a part of my family for a very long time. Not long after my father got injured, we started coming to an early version of this facility. The trainers, fellow clients and fellow families became our family. I have grown up around these people and I would not trade it for the world. Working here is spending time with family and I could not be more grateful for this opportunity."